Staff and faculty
Angel V. Peterchev, Ph.D.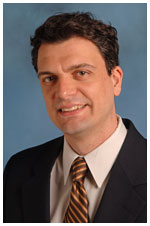 Dr. Angel V. Peterchev received an A.B. degree in physics and engineering sciences from Harvard University, Cambridge, MA, in 1999 and M.S. and Ph.D. degrees in electrical engineering from the University of California at Berkeley in 2002 and 2005, respectively. He completed postdoctoral training in transcranial magnetic stimulation (TMS) at Columbia University in 2007.
Dr. Peterchev is presently an Instructor in the Division of Brain Stimulation and Therapeutic Modulation. In the summer of 2003, Dr. Peterchev was Co-op at the Portable Power Systems Group, National Semiconductor Corp., Santa Clara, CA. From 1997 to 1999, he was Member of the Rowland Institute at Harvard, where he developed scientific instrumentation.
Dr. Peterchev's current research is focused on the development of technology and application paradigms for brain stimulation. His interests include pulsed power circuits and coil design for TMS, simultaneous delivery of TMS with functional magnetic resonance imaging (fMRI) and electroencephalography (EEG), brain dynamics, and neural circuit modeling. He has also made contributions to analog and digital control of power converters, with applications to microprocessor voltage regulators and portable electronics.
Dr. Peterchev received the 1999 Tau Beta Pi Prize from Harvard University and a 2001 Outstanding Student Designer Award from Analog Devices, Inc. He as awarded a Young Investigator Memorial Travel Award by the American College of Neuropsychopharmacology in 2007.
Read more about Dr. Peterchev on his Department of Psychiatry faculty profile.