Staff and faculty
Sarah H. Lisanby, MD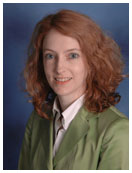 Sarah H. Lisanby, MD has accepted the chair of the Department of Psychiatry and Behavioral Sciences at Duke University School of Medicine. She will assume her new duties there on October 1, 2010.

Dr. Lisanby is Professor of Clinical Psychiatry at Columbia University. In addition, she is Director of the Division of Brain Stimulation and Therapeutic Modulation at the New York State Psychiatric Institute, head of the Transcranial Magnetic Stimulation (TMS) Unit in the fMRI Research Center at Columbia, and the New York Presbyterian Hospital Brain Stimulation Service. She is also Director of the Brain Behavior Clinic at NYSPI.
Dr. Lisanby earned her BS in mathematics and psychology magna cum laude at Duke University and her MD at Duke University School of Medicine in Durham, North Carolina. After graduating, she completed her residency in psychiatry at Duke University Medical Center, where she served as Executive Chief Resident. Her postdoctorial fellowship in affective disorders research and geriatric psychiatry was conducted at Columbia University.
Dr. Lisanby has authored or coauthored over 150 articles, abstracts, chapters, books, reviews and editorials concerning TMS, electroconvulsive therapy (ECT), depression, and related topics. Her articles are published in prestigious scientific journals such as Archives of General Psychiatry, Clinical Neurophysiology, Neuropsychopharmacology, and Biological Psychiatry. She became internationally recognized as a leader in the field of TMS when her research team innovated the use of TMS to perform convulsive therapy – a procedure termed Magnetic Seizure Therapy (MST). She is principal investigator on an R01 grant from NIMH and research grants from the Stanley Foundation, the American Federation for Aging Research, and the National Alliance for Research in Schizophrenia and Depression (NARSAD) to develop MST as an alternative treatment to ECT for major depression. She is the immediate Past President of the Association for Convulsive Therapy and the current Chairperson of the American Psychiatric Association Committee on ECT and Related Electromagnetic Therapies. Dr. Lisanby is also President of the International Society for Transcranial Stimulation and a Member of the American College of Neuropsychopharmacology, among others. Dr. Lisanby is the recipient of over 35 honors and awards, including the Gerald L. Klerman Award presented by the National Alliance for Research in Schizophrenia and Depression, and the 2004 Max Hamilton Memorial Prize of the Collegium Internationale Neuro-Psychopharmacologicum (CINP). She is also a member of the 2006-2008 Defense Sciences Study Group supported by DARPA and the Institute for Defense Analysis.